Hey, you guys (or y'all, for my southern friends). Is it just me, or is the week flying by? It could just be me I guess, since I spent the first 2 days of the week working from home. Anyway...
Let's talk about two-a-days. For those who aren't familiar, two-a-days refers to working out twice in one day, usually once in the morning and once in the evening. I've been doing two-a-days since mid-April, when I started the
21 Day Fix
on top of my usual 4 days per week running schedule. (Although on the days that I can't get out of bed, my two-a-day actually ends up being a single mega workout in the evening...) I have always continued to weight train / circuit train while keeping up a running schedule, but prior to the Fix, I usually didn't do both on the same day. Running days were running only.
Two-a-days were working pretty well for me on the Fix, but in my opinion, the Fix workouts aren't very intense (although they are still great toning workouts!). Now that I've kicked the intensity up a notch with
Focus T25
and ramped up my weekly mileage, I'm afraid I may have hit the tipping point - the point of diminishing returns. My legs feel burned out almost all the time, and my running pace is very inconsistent, and generally slower than I would like - especially the first mile.
Case in point, tonight's 7:30 pm run after having done T25 lower fix at 5 am:
Totally tanked mile 1!
Do I stick with it, and keep doing
T25
while I train for my next half marathon? Or adapt the T25 schedule around my running schedule? Oh, who am I kidding - I'm not a quitter. I'm totally going to finish what I started! I'm either going to have the strongest legs in the world when all is said and done, or I just won't be able to walk at all. One or the other.
So that's the burnout aspect of two-a-days. Let's talk about the appetite, shall we?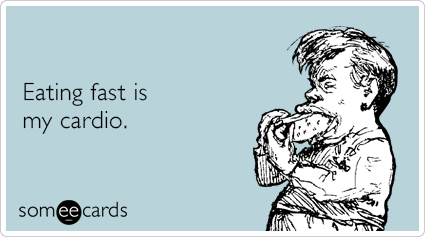 Hungry doesn't even begin to describe how I feel on days like today. I'm not even sure that starving covers it. I have been a complete bottomless pit today, and many other days since pairing T25 with running. In the past, I would have been so concerned about keeping my calorie count down, I would have gone to bed hungry. But lately, I've been "feeding the beast" as I like to call it. Stomachs growl for a reason, right? As long as I'm not feeding it junk, why deny? I ate so many different things today, that I finally gave up trying to log it all. (No, I have not quit that bad habit yet. Don't judge.)
Time to go to bed and doing all over again tomorrow!
Today's random, completely unrelated question:
Do you use the term Hump Day?
I'm pretty sure there are only 2 kinds of people - those who say Hump Day and those who do not. For the record, I do NOT! :)