Ugh. That's how I feel today. Just
UGH
.
I woke up this morning at 5 and could not for the life of me figure out what day of the week it was. It wasn't until I got to
Pure Barre
and saw which instructor was there that I realized it was only Tuesday.
UGH.
(Is it sad that I can tell the day of the week based on the Pure Barre instructor?!)
I got home around 6:45, grabbed some breakfast and started to get ready for work. And then my hair straightener crapped out.
UGH.
I gave up trying to make my hair look good and just pulled it up.
When I got to work, I stared at my mile-long to-do list and almost-full inbox and felt totally overwhelmed.
UGH.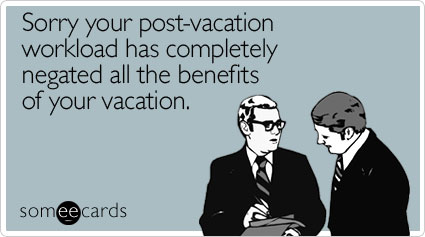 I think I always go through a letdown period after vacation, but this time it's pretty extreme. I feel downright depressed about being back to reality (and away from the mountains).
UGH.
Maybe I'm more dissatisfied and unfulfilled that I realized? Maybe I'll just always want what I don't have?
I'm dealing with my post vacation blues the best way I know how - channeling my negative energy into my running. My training schedule called for a 5-miler tonight. I wasn't sure I'd be up to it, since I just about fell asleep at the wheel on the way to work and also fell asleep in the rocking chair tonight, but I used those bummed out thoughts and feelings to push myself, and ended up having a pretty good run.